Cute 'n Simple Flower
by Rachel Geller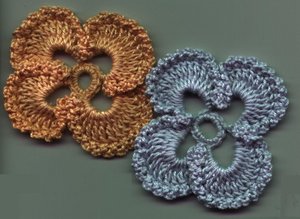 This flower works up quickly, and can be used for a variety of projects. They would look nice on barrettes, and, if you're really ambitious, you could make enough to edge a tablecloth!
Sizes:
Gauge: Really not too important. It depends on how you want your flower to look and what size you want it to be.
Materials: Small amount of #10 cotton thread. Any hook (I used a US size 6 steel and obtained the size of flower showed in photo, however, one could use a smaller hook to achieve a small flower.) This pattern could also be worked in yarn (although I've not tested it that way) to obtain a larger flower.
Directions:
Round 1: Ch 8 (not loosely), sl st in first ch to form lp.
Round 2: Ch 1, work 12 sc in loop, finishing with a sl st in 1st sc.
Round 3: (Ch 10, sk 2 sc, sl st into 3rd sc)3 times. Ch 10, sl st into starting sc.
Round 4: Ch 1, (Sc, hdc, dc, 10 tr, dc, hdc, sc) in all four ch-10 loops. Finish with a sl st in beginning sc.
Round 5: (Ch 3, sl st in next stitch) across all four petals. Last sl st goes into same stitch as beginning ch 3. Tie off. Weave in ends. You're done!
This pattern may not be sold, but the finished product may be used as you see fit. Do not post this pattern on any other site without permission.